Workshops with John Presseault near Cetona, Italy Sep 9 to 16, 2017, Sep. 16 to 23 and Sep. 23 to 30, 2017.
Painting in Tuscany
Come with us to the beautiful Italian countryside to paint and learn and enjoy ourselves. One week courses in September 2017. (Optional two weeks available.)
See website for pricing www.artjunctions.com

Price Includes:

airport transfers
course fees
seven nights accommodation
daily breakfast, lunch
and three-course dinners.

Note: Airfare not included.

Workshop Schedule 2017

September 9 to 16 by John Presseault
September 16 to 23 by John Presseault
September 23 to 30 by John Presseault

This fabulous art retreat is set in the picturesque Italian country-side, along the border of Tuscany and Umbria, in the province of Siena, 3 km from the medieval village of Cetona, and near the Chiusi Therme train station. Nestled among olive groves and vineyards our antique-filled villa has individual rooms (with attached bathrooms), lounging areas, kitchens and a pool.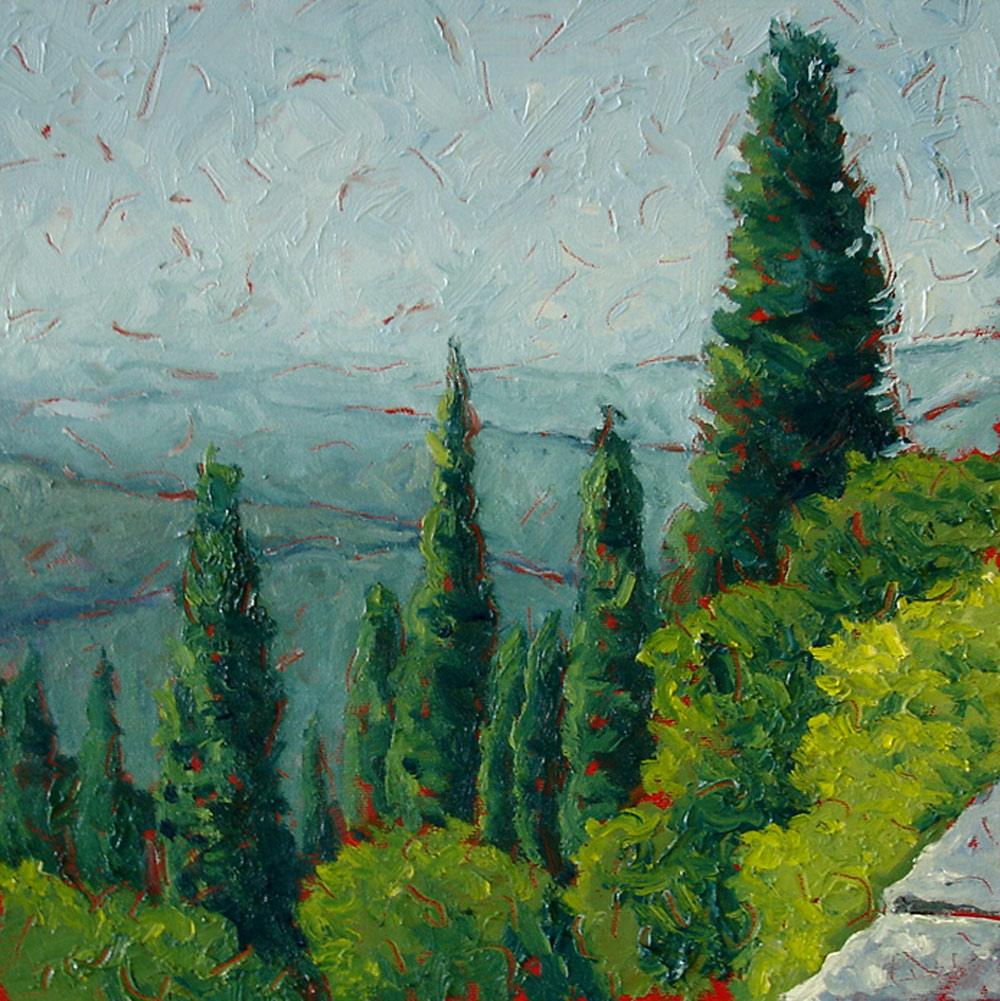 MATERIAL LIST FOR PAINTING ON SITE AND IN THE STUDIO
· Foldable EASEL if possible and some sort of paint box would be an asset
· Any size of canvas boards or canvass paper or gessoed watercolor paper or gessoed board is good (if using the
paper ensure you have a board for backing and painters tape or watercolor block paper). I use 11 x 14 panels
only because ready made frames are easy to purchase for that size.
• A plastic jar with lid for transporting dirty water to safe dump site
· Paper Palette or wood, whichever you prefer
· Brushes: a few flats, filberts and rounds -Should have one 2" approx. bristle paint brush or a rag for toning
canvas or boards
plus 1 very fine and soft brush for detailed work
· Water containers ie. tin cans (for acrylic or water soluble oil painters) , (no glass containers for safety).
· If using OILS- it is strongly recommended that you bring water soluble oils to minimize exposure to dangerous
solvents or
to use oil to clean brushes (instead of turps or mineral spirits) for the regular oils.
· Rags or paper towels
· Palette knife
· Drawing material: sketch pad , pen or pencils.
· Painting smock or apron or old clothes
· Paints: MUST: titanium white (large), cadmium yellow light, cadmium red medium, ultramarine or cobalt blue or
thalo blue and burnt umber
· OPTIONAL (not necessary): veridian or sap green, cadmium yellow medium, cerulean blue, Indian red or
transparent oxide, red/orange, alizarin crimson, raw sienna or yellow ochre and raw umber.
Plus a good hat with brim
TEACHING METHOD
I don't force people to paint in my style unless they want to learn it. I am very flexible, I generally try to find out how people paint and assist them in creating stronger and better paintings. I will give tips and make suggestions as we go along. I will be talking mostly about two methods of painting, the three value method and the alla prima method and pointing out their strenghts and difficulties. I will also be painting along with the group so they can see just how I do either of those. I will cover what to do as a prep before putting any paint on both on site and in the studio. I'll discuss choosing subject matter, how much or little to paint, what drew you to that subject, how to move things like trees, rocks, hills, light and shadows to emphasize what you want to say, how to see real color in nature, how to and what to change the color to warm or cool the piece, composition, focal point or points or not, how to mixe paint, how to apply it, the golden mean and much more. If anyone has any questions, please feel free to speak up, I am there to help you grow and improve as artists and I want everyone to enjoy the process and have fun. Group critiques at the end of each day will be encouraged and are to be kept on the positive side by all.
Keep on painting,
jp

Contact Us
www.artjunctions.com
email : contact@artjunctions.com
Cetona,Tuscany
Our Villa/ Farmhouse offers a strategic location for visiting the beautiful cities and towns in Tuscany and Umbria.